Round Up Sunday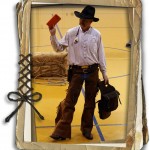 On September 12, 2010, the elementary Sunday School department of Temple Baptist Church had its annual Round Up Sunday! 
The leaders and students alike really got into the western theme.  We all had a fantastic time as we dressed as our favorite western character, participated in the many fun activities, and had an exciting visit from a real, live cowboy, our very own, Cowboy Roger!
Below are some pictures of this wonderful day!