April Is Missions Month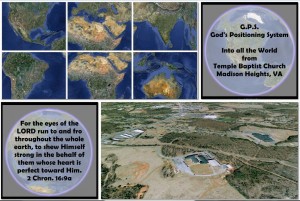 The theme for this year's Missions Month is G.P.S. (God's Positioning System).  We are focusing in on our worldwide missions program.  We are astounded at how God has positioned our missionaries throughout the globe in such a strategic way.  We are grateful and humbled that the sun never sets on the missions outreach of Temple Baptist Church.
As we bring our mission year to a conclusion, we will look back and rejoice in the Lord's provision, and look ahead to the most challenging year in the history of our church.
Our goal in 2011 is to increase our faith-promise giving to a level that will allow us to support our missionaries in a greater way than we have ever considered in the past.  The need is greater NOW than ever!  Reading the monthly letters from the missionaries brings us face to face with the challenges they daily face.  Yes, the need for prayer support is greater than ever.  Yes, the spiritual conflict is intensifying like the church has never experienced.  Yes, the family issues are more complicated.  Yes, yes, yes…. Yes, the financial burden has never been greater.
In 2011 we are committed to the GOD THAT CAN.  Yes, our God is able!!!!!!!!!!