Evangelist Eddie Goddard – The Church Should be a Helpful Place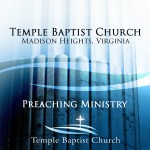 Evangelist Eddie Goddard applies the motto of Ace Hardward to the Church.  The Church ought to be a helpful place where you get in, get help, and get out.
Eddie Goddard is our Pastor's Pastor.  Pastor Surbaugh gives a brief introduction for his long-time friend and mentor.
May 15, 2011   
Audio clip: Adobe Flash Player (version 9 or above) is required to play this audio clip. Download the latest version here. You also need to have JavaScript enabled in your browser.