I Salute You – November 6, 2011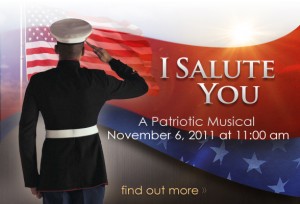 At Temple Baptist Church, we love our nation, we love our military, and we love our flag!  As a result, we would like to invite you to a patriotic music on the Sunday before Veteran's Day, November 6, 2011.  The program will be held during our regular 11:00 worship service.
This musical is one you will not want to miss.  It is titled, I Salute You.  It is a short patriotic musical that will honor our veterans, our flag, and our nation, while remembering to give praise to our Lord God for His abundant blessings on us as a nation.
The program will focus on the indomitable spirit of the American people that has helped make our nation great.
We would like all veterans, active service men and women, and public servants to come dressed in your uniforms.  We will take time to recognize each branch of the service.