Walking With the Giants: Joshua – Chapter 13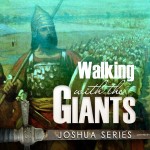 In Joshua chapter 13, God tells Joshua that he is "old and stricken in years."  However, the promised land still needed to be divided.  This was a job that could only be done by an elder statesman.
J.D. Surbaugh uses this passage to challenge us to be faithful to our calling regardless of our age.
November 6, 2011   
Audio clip: Adobe Flash Player (version 9 or above) is required to play this audio clip. Download the latest version here. You also need to have JavaScript enabled in your browser.