Promised Land Youth Camp: Fall Celebration and Camp Reunion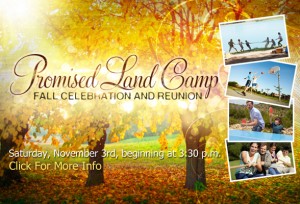 Temple Baptist Church will host a fall celebration at the Promised Land Camp in Bedford!  The whole church is invited plus anyone who has ever attended or worked at the Promised Land kids or youth camps!
Bring your family out for a fun evening of games, special events, good food, a bonfire and much, much more! Come remember times from the past, celebrate what God is doing there today, and look forward to all God will use the land for in the future! You will not want to miss this awesome night!
We hope to see everyone in our current church family there, plus a lot of familiar friends who come back to visit us! If you were ever a part of the Promised Land in the past – please make plans to come see us!
The camp is located at 2594 Wheats Valley Road, Bedford, Virginia.
Please help spread the word to anyone who had a part in the Promised Land Camps!