Theme for 2013 – Christ Magnified Through Us!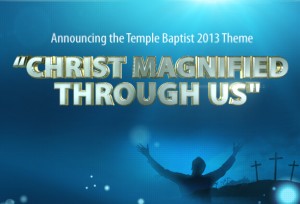 "According to my earnest expectation and my hope, that in nothing I shall be ashamed, but that with all boldness, as always, so now also Christ shall be magnified in my body, whether it be by life, or by death."  Philippians 1:20
For the believers in Jesus Christ our great passion in life is that Christ be seen as great, supremely great (magnified – to cause to be seen as great).  That is why God created us and saved us – to make Christ look like what he really is – supremely great.
The word translated "magnified" means "to make great or to enlarge."  Ordinary views of Christ were too small.  Christ was big enough to fill the universe, but to most people He was remote and far away.  The apostle Paul desired to be a telescope to bring Him closer to their consciousness so they could see Him in all His glory and grace.  Paul wanted to be a microscope to enlarge their vision of Christ – to make the various facets of His magnificent life manifest so that people could come to know Him in all His majesty.
May we at Temple Baptist Church by life or by death reflect Jesus by living the way Jesus lived, by doing what Jesus did, by saying what Jesus said, by reacting the way Jesus reacted, by thinking the way Jesus thought, and by dying the way Jesus died.