Homecoming 2013 – Summit Trace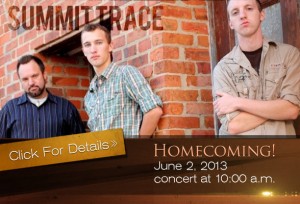 Sunday, June 2nd, 2013 will be Homecoming at Temple Baptist Church!  This will be a wonderful day of celebrating forty-two years of God's blessings, and seeking His face for our future as He tarries His coming.
Our special musical guests this year will be Summit Trace from Boonville, North Carolina.
In the heart of each member of SUMMIT TRACE is the desire to present Christ in song and in life. Their mission is to spread the word of God through song with joy to the believers and a message of hope to those in need. Through the leadership of God and his anointing and uplifting music, they testify to those looking for an answer and for peace that only God can give.
Summit Trace will be presenting a concert in the 10:00 a.m. service, and all the music at the 11:00 a.m. service.  Please don't miss it!  Everyone is invited!  There is no charge for the concert.  However, a love offering will be taken.