Awake – For the Night is Ending!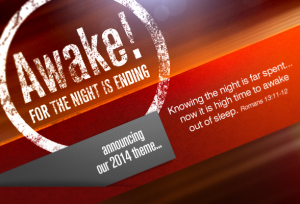 "Knowing the night is far spent …now it is high time to awake out of sleep." Romans 13:11-12
Two thousand years ago, the Holy Spirit told Christians that the night was far spent.  If that were true then, how much more is it true at the present time?
Jesus said in John 9:5 "As long as I am in the world, I am the light of the world."  When following the crucifixion He returned to heaven, the world plunged into night, and His light is only reflected by those who truly know Him.
The age in which we live is drawing to its close ("the night is far spent") and Christ will soon return.  The old proverb tells us the darkest hour is just before the dawn.  Darkness is upon us.  The world is perishing.  Christians are sleeping.  The need of the hour is apparent.  Awake sleepers – for the night is ending!