Temple Baptist Church Homecoming 2014!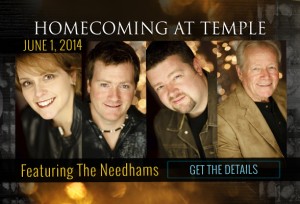 Homecoming 2014 will be a wonderful day of celebrating forty-three years of God's blessings, and seeking His face for our future as He tarries His coming.
Our special musical guests this year will be The Needham's. The Needhams have toured since 1997 sharing the Gospel with their own unique sound. Audiences across the nation have discovered The Needhams offer a broad spectrum of music with original songwriting combined with unique arrangements of familiar, beloved tunes. Every song, ranging from acoustic to progressive, is crafted with the common basis of pure family harmony and lyrics grounded in the Word of God.
A rich history of family harmony and their personal faith in Jesus Christ have brought The Needhams to where they are today. Ultimately, it is their goal to glorify God, encourage fellow believers, and share the Gospel. They will be presenting a concert in the 10:00 service, and all the music at the 11:00 service. Please don't miss it!