8th Annual Harvest Sunday with Special Musical Guests Brian Free & Assurance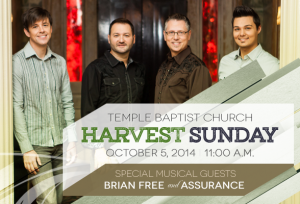 Each Fall, Temple Baptist Church enjoys celebrating the harvest season!
Over the past eight years, we have turned our focus to celebrating God's blessings on us as a church and as individuals.  We thank Him for the harvest of souls he has provided, and the harvest of blessings he has poured out on each of us!
This year, we are pleased to announce that we will be welcoming Brian Free and Assurance to help celebrate this day with us!
Brian Free is undeniably the most recognizable southern gospel tenor of our generation. Since 1982, he has been at the forefront of southern gospel music since first joining Gold City Quartet, then moving on to form his own group.
The group has been with us in the past and they are always such a blessing.  They minister with such humility, yet, with a sound that is second to none.  Brian Free and Assurance will be presenting a concert during our 11:00 a.m. service on October 5, 2014.  There is no charge for the concert.  However, a love offering will be taken.  Also, the dress is casual for this very laid back day of rejoicing.
And as a good Baptist church, we cannot have a special day like this without sharing a wonderful meal together!  A delicious pig roast accompanied by some of the best home cooking in Virginia combine to make a perfect ending to a wonderful day of celebration!  We praise the Lord of the Harvest!!