2015 Easter Program, Salvation's Story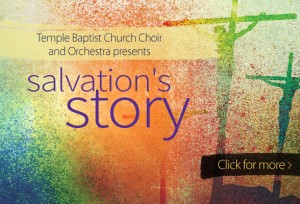 For Easter 2015, The T.B.C. Choir and Orchestra will be presenting an uplifting worship musical entitled, Salvation's Story.
This program centers on the message of the cross and rejoices in the glorious resurrection of our Lord. In addition to the choir and orchestra, the musical incorporates co-worship leaders, soloists, and a visually-engaging DVD.
Celebrate this Easter as God's plan for humanity and His promise of redeeming love stream together into Salvation's Story.
The program will be presented on Easter Sunday morning, April 5th, at 9:30 a.m. Please don't miss it.