TBC Homecoming 2015 – June 7th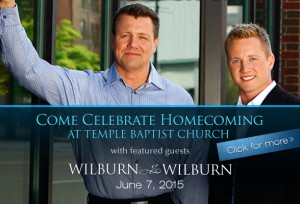 On June 7th, 2015, Temple Baptist Church will celebrate 44 years of ministry and miracles as we observe Homecoming.
This year, our musical guests will be Wilburn & Wilburn.  The name Wilburn has been a part of the music industry for several years. It seems as though when you mention this family, people recognize that you are talking about music.  And not just any music, but Gospel Music that is sung from the heart.
Wilburn & Wilburn is a new name with familiar faces. This father and son duo combine a solid foundation of "Old School" with a flare of youthful presence to bring the message of Christ in song.
Wilburn & Wilburn will be in concert at 10:00 a.m. and they will be providing all of the music in our 11:00 a.m. worship service.  There is no charge for the concert, but a love offering will be taken to help cover the expenses of the group.  All are invited to attend.  Please do not miss it!