The Mad Scientist, Gone Madder! Temple Baptist Church V.B.S. 2015!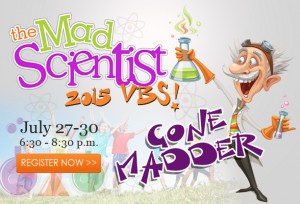 Temple Baptist Church is excited to be hosting Vacation Bible School on Sunday, July 26th through Thursday, July 30th, from 6:30-8:30pm.
The "Mad Scientist" has gone even madder this year and will be performing BIG and sometimes EXPLOSIVE experiments that show us how God wants to be a part of every part of our lives! Also, each child who comes will become a "Mad Scientist" and be able to try out some experiments on their own!  So be prepared to come and have a great time!
Parents: Thank you for registering your child online, it will cut down the time you have to spend registering your child on that first day of VBS! As a thank you, we will have a candy bar for you on the first night!
Thank you for allowing us to teach your child about the love of God! If you have any questions or concerns, please contact Lenaya Smith at 434-386-0303.
Online Registration for Vacation Bible School: