Worship for Life!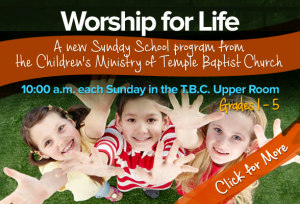 The Children's Ministry is pleased to announce an exciting new Sunday School program for children 1st through 5th grades called Worship For Life! 
Worship For Life provides solid Biblical teaching, engaging worship, and take-home family resources that are all wrapped in a fun, energetic experience that kids will love.
Each week the children will hear a presentation of the Gospel and learn how to apply God's Word in their lives.
We will meet in the Upper Room of Temple Baptist Church each Sunday morning at 10:00 a.m.
See you Sunday!