TBC Homecoming 2016 with The Mylon Hayes Family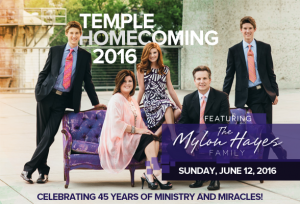 Sunday, June 12th, 2016, will be Homecoming at Temple Baptist Church!  This will be a wonderful day of celebrating forty-five years of God's blessings, and seeking His face for our future as He tarries His coming.
Our special musical guests this year will be the Mylon Hayes Family.  Mylon has been at Temple on two previous occasions with his parents and sisters (the Hayes Family).  Now he travels with his wife and children.  Make plans now to enjoy the music and ministry of this talented family.  They will be presenting a concert in the 10:00 service, and all the music at the 11:00 service.  Please don't miss it!