2016 Christmas Musical: Reflections of Christmas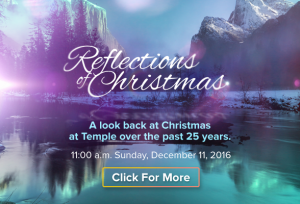 The Music Ministry of Temple Baptist Church is pleased to present the 2016 Christmas Musical: "Reflections of Christmas!"
"Reflections of Christmas" is a look back at some of our favorite selections from Christmas musicals presented over the past twenty five years.
The program will be presented after the Christmas Banquet on December 3rd, 2016 (approximately 6:30 p.m.) and then again on Sunday morning, December 11th, 2016, at 11:00.
Please come and join the TBC Choir and Children's Choir as we present this one-of-a-kind program celebrating the birth of our Savior, Jesus Christ!