Jeff & Sheri Easter In Concert at Temple Baptist Church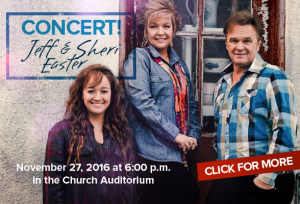 Temple Baptist Church is excited to announce that Jeff & Sheri Easter will be here in concert on Sunday evening, November 27, 2016, at 6:00 pm!
This beloved couple has been in the forefront of Southern Gospel Music for many years.  Their desire is to encourage and uplift those who attend their concerts, and to point folks to the Savior, Who can meet every need.
Please do not miss this wonderful opportunity!  There is no charge for admission, but a love offering will be taken.