Walking With the Giants: Daniel
Daniel "God is My Judge"
God's Man in a Pagan Society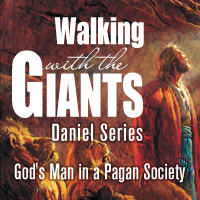 Daniel's life provides us with the pattern for godly living in a godless culture much like Christians are experiencing in America.
Daniel enjoyed an increasingly intimate relationship with God through increasingly difficult trials. Ripped from his home at age fourteen and taken into a foreign, pagan culture eight hundred miles away, he faced educational indoctrination, pressure to compromise his loyalty to God, jealousy from his peers, threat of physical violence, and the constant risk of painful death. Yet Daniel flourished spiritually – and God used him to profoundly impact the culture of his day.
May our walk with Daniel allow us to be the salt and light that God will use to influence our world for the glory of God.