T.B.C. Theme for 2017: Cries of the Heart
Cries of the Heart
The Heart of God and the Heart of Man
"Their heart cried unto the Lord"
Lamentations 2:18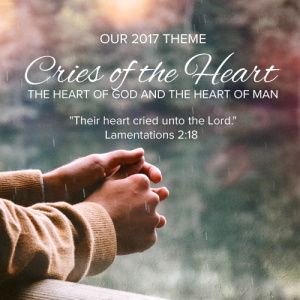 The Temple Baptist Church theme for 2017 will focus on the "Cries of the Heart".
Throughout Scripture we find the heart of God crying out for the lost. He weeps for those who are dead in their trespasses and sin. The very heart cry from the cross is for wayward sinners in need of a redeemer.
There is also the cry of the Lord for His people who have left their first love. During 2017, may the cry of the Lord be heard resulting in many believers returning to the Lord they have forsaken.
To be a Christian is to love the Lord Jesus Christ (John 14:21, 23; I Cor. 16:22). But our passion and fervor for Christ can become cold, mechanical orthodoxy.