Harvest Sunday 2017 – Featuring Down Home Family!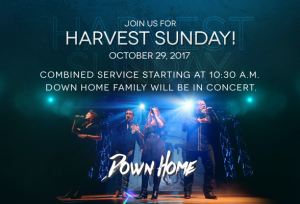 On October 29, 2017, Temple Baptist Church will be celebrating our Harvest Sunday!  Harvest Sunday is always an enjoyable day of worship and praise to the Lord for His abundant blessings on us.  Unlike any other Sunday, the atmosphere is laid-back and comfortable.
This Harvest Sunday, we are excited to be hosting Down Home Family.  This talented group is from Nashville, Tennessee. Folks from coast to coast have been blessed with their unique presentation of the gospel through music, and we expect God to do great things when they are with us.
Please make a note of the schedule change for this Sunday. We will have one combined service in the morning (no Sunday School), and it will begin at 10:30 with Down Home Family in concert.