2017 Christmas Program – "At Last Noel"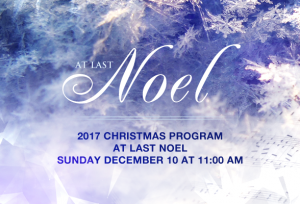 Temple Baptist Church will be having our annual Christmas program on Saturday, December 2nd, and Sunday, December 10th.
The program on Saturday will follow our Christmas Banquet (approximately, 6:30), and the program Sunday will be during our 11:00 worship service. Please note that the programs are eight days apart.
This year's program is entitled, At Last, Noel. This program is filled with beautiful music that is sure to get your heart and mind focused in the right direction as we approach Christmas.
It looks at the ancient prophecies that promised a coming Messiah, and how those prophecies were fulfilled "at last" with the birth of Jesus Christ the Lord! Please plan to join us!