Annual Christmas Banquet – Saturday, December 3, at 5:00 p.m.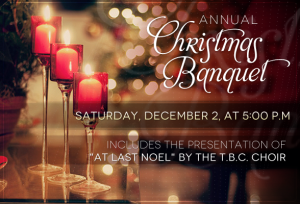 Come join us in celebrating the birth of Christ at our Annual Christmas banquet!
The banquet will take place Saturday evening, December 2nd, at 5:00 p.m.
Just like last year, there is no charge to attend, and the whole family is invited. However, you must RSVP by November 22nd, to be included.
The Temple Christmas elves will be serving lots of delicious food as we celebrate the best birthday party ever! Plan to arrive a little early to make sure you don't miss a thing.
Following the banquet, the Temple Baptist Church Choir will present the Christmas musical "At Last Noel!" The program is a look at the fulfillment of the ancient prophecies proclaiming the coming Messiah!