Temple Baptist Church Theme for 2018
The 2018 Theme for Temple Baptist Church
"What Is That to Thee? Follow Me!"
John 21:22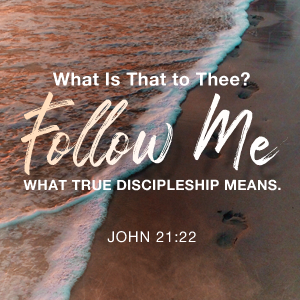 "Follow me!" are the first and last words of Christ in John's Gospel. They are a reminder that Christianity is Christ, not just believing in some abstract sense, but believing him to the point of turning our back on all else to follow him.
Knowing that these words may be difficult to interpret, Jesus himself supplies the interpretation for us: "If any man will come after me, let him deny himself, and take up his cross daily, and follow me. For whosoever will save his life shall lose it: but whosoever will lose his life for my sake, the same shall save it. For what is a man advantaged, if he gain the whole world, and lose himself, or be cast away?' (Luke 9:23-25).
These words, like John 21:19-22, are an invitation to follow Jesus. These verses explain what such discipleship means. Specifically, they teach that discipleship means (1) self-denial and (2) taking up one's cross in Christ's service.
Turning our back on all else to follow him is a very positive voluntary act of the will, a Yes to God. In other words, we must say No to ourselves in order to say Yes to God.
This should be the dominant theme of our lives for 2018: "Yes, Lord, what do you want me to do?"
May we keep in mind that God's will is not grievous. The Bible calls it the way of wisdom and says, "Her ways are ways of pleasantness, and all her paths are peace." (Proverbs 3:17).
Sometimes it seems grievous to us, and at that point we must simply live by faith accepting the apparently "grievous" will of God gladly.
Elisabeth Elliot wrote: "So let us carry the cross every day, not in the sense of something we hate but in the sense of something which God is asking us to do and which we therefore determine to do joyfully."