Christmas Eve Service at a Special Time!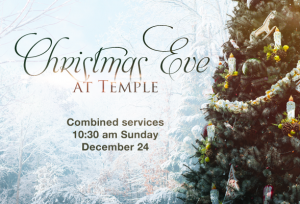 Christmas Eve is on Sunday this year. As a result, our schedule will be much different than in recent years. We will have one combined service at 10:30 a.m.
This will allow us to spend time in worship as a church that morning, and the evening can be preserved for our various family celebrations.
We will miss the 5:00 candlelight service for this year. But as our Pastor often reminds us, "Change is good!"
We will plan to continue the candlelight tradition in the coming years if Jesus doesn't return. If He does, we will have our candlelight service in heaven next year!