TBC Choir Presents Presents "The Story – The Musical"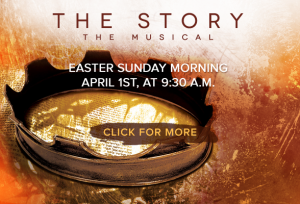 The choir of Temple Baptist Church will be presenting the Easter program The Story. And as the title suggests, this program is about the ultimate story, that of God's Word.
We will begin with creation, examine God's redemption plan through godly folks like Abraham and Sarah and King David, then look at the birth, life, death and resurrection of Jesus. Finally, we will celebrate Christ when He reigns as King of Kings and Lord of Lords!
Believe it or not, we will do all this in about an hour! The music is beautiful and powerful. The visuals are breathtaking and moving. You will not want to miss it, and you will want to bring others with you to experience it. The program will begin at 9:30 a.m. on Easter Sunday, April 1, 2018.