Ah, "The Holidays"!    I always love this time of year at Temple.  It is a busy time of year, as everyone knows, but it is also a time where we get to stop and spend time with our family & loved ones, reflect on all the blessings God has bestowed on us, and focus on Christ as we celebrate Him … Read more...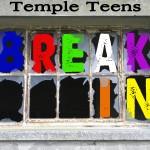 The Temple Teens will be having a "Break In" activity at the church on Friday evening, November 12, from 7:00 pm to 11:00 pm.  The activity is for middle and high school students, and the cost is $8.00.… Read more...
          The Temple Teens will be heading out Joe & Wanda Thompson's for a Last Splash of Summer Pool Party on September 11, 2010!  We will be leaving church at 10:00 am and arriving back at 2:30 pm.  Grab your swim trunks & come help us enjoy one of the last days of summer!  The cost is $3.00.
 Pete Sudlow… Read more...