What an exciting year for VBS at Temple Baptist Church! We are joining the Olympics and participating in games, crafts, extreme sports, crazy fun music and learning about a man in the Bible who lived an extra-ordinary life! Come join the fun and see how you can live "Above the Gold" and truly see what the most important race you
…
Read more...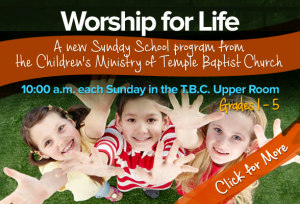 The Children's Ministry is pleased to announce an exciting new Sunday School program for children 1st through 5th grades called Worship For Life! 
Worship For Life provides solid Biblical teaching, engaging worship, and take-home family resources that are all wrapped in a fun, energetic experience that kids will love.
Each week the children will hear a presentation of the Gospel … Read more...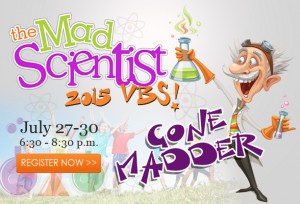 Temple Baptist Church is excited to be hosting Vacation Bible School on Sunday, July 26th through Thursday, July 30th, from 6:30-8:30pm.
The "Mad Scientist" has gone even madder this year and will be performing BIG and sometimes EXPLOSIVE experiments that show us how God wants to be a part of every part of our lives! Also, each child who comes … Read more...
The Sunlight Express, Jesus and Me, will be departing on June 11th – 15th. Our first stop on the journey will be at the Great Gorge where we'll learn how to receive Jesus Christ as Savior. Our second stop will be at Mercy Meadows. There we will learn the importance of following Jesus. Then, we will head over to Fearless … Read more...
The AWANA Clubs of Temple Baptist Church have begun another year, and what a great start it has been! Our Clubs are for kids ages 3 thru the 8th grade and we meet in the gym every Sunday night from 5:45 until 7:15.
There are 3 parts to our night:
Handbook time – this is when the clubbers memorize
…
Read more...
With only six weeks left to go in this AWANA year, there is no time to waste! As the weather warms up in April and May, we will have activities geared toward spring, such as ice cream night, kite night, and get wet night and move up night.  All geared toward learning God's word.   
As we wrap things up on … Read more...
It is difficult to believe, but January was the half-way point for the 2010/2011 AWANA year. The weeks are flying by! If you have been considering joining one of  our clubs, either as a clubber or as a leader, there is no better time than the present. We have had as many as 75 clubbers in one night, with over … Read more...
                                          AWANA                            
            T&T / SPARKS CALENDAR
              2010 – 2011
DATE
ACTIVITY
AWARDS
STORE ROOM
September 12
BLAST OFF!! (Registration starts at 5:00)
 
 
September 19
Alpha Conference Night
 
 
September 26
Bring a Friend Night
 
 
October  3
Bring a Parent (Cubbies/Sparks K5 – 2nd)
Sparks
Sparks
October 10
Bring a Parent (T&T 3rd – 6th)
T&T
T&T
October
…
Read more...
It is an honor and privilege to be able to serve the Lord as the AWANA Commanders at Temple Baptist Church. The goal of the AWANA ministry is to reach boys and girls with the Gospel of Christ, and to train them to serve Him. This is all done in a FUN setting!
The following clubs are available for your … Read more...
**Warning!  Content is Explicit!"
I've recently purchased a book entitled "30 Ways in 30 Days to Save Your Family, by Rebecca Hagelin.  Mrs. Hagelin says, "In today's society, the enemy among us is not wearing a trench coat and driving a suspicious looking van.  No, the true enemy out to destroy the innocence of our children comes into our … Read more...