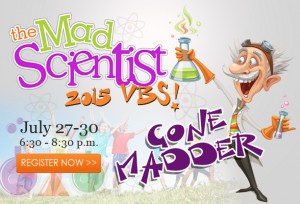 Temple Baptist Church is excited to be hosting Vacation Bible School on Sunday, July 26th through Thursday, July 30th, from 6:30-8:30pm.
The "Mad Scientist" has gone even madder this year and will be performing BIG and sometimes EXPLOSIVE experiments that show us how God wants to be a part of every part of our lives! Also, each child who comes … Read more...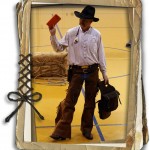 On September 12, 2010, the elementary Sunday School department of Temple Baptist Church had its annual Round Up Sunday! 
The leaders and students alike really got into the western theme.  We all had a fantastic time as we dressed as our favorite western character, participated in the many fun activities, and had an exciting visit from a real, live cowboy, … Read more...
1. God loves you and has a great plan for you (Psalm 139:13-16). Talk about these truths: God made the world, God made people, God made you, God wants to have a relationship with people, and God wants to have a relationship with you. Say, "Tell me one way you know God loves you."
2. We have all sinned (Romans … Read more...