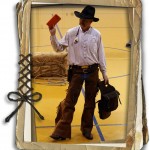 On September 12, 2010, the elementary Sunday School department of Temple Baptist Church had its annual Round Up Sunday! 
The leaders and students alike really got into the western theme.  We all had a fantastic time as we dressed as our favorite western character, participated in the many fun activities, and had an exciting visit from a real, live cowboy, … Read more...
1. God loves you and has a great plan for you (Psalm 139:13-16). Talk about these truths: God made the world, God made people, God made you, God wants to have a relationship with people, and God wants to have a relationship with you. Say, "Tell me one way you know God loves you."
2. We have all sinned (Romans … Read more...
We are so excited that Awana is about to get underway again!  The start of the 2010-2011 Awana year is slated to begin on September 12, 2010, at 5:45 p.m.  Awana is available for children three years old through eighth grade.  All children are welcome regardless of their church affiliation.  If your child has not registered, please arrive early on … Read more...