Temple Baptist Church will be hosting Wilburn & Wilburn in concert on Sunday evening, January 19, 2014, at 6:00 p.m.  There is no charge for the concert, but a love offering will be taken.
The name Wilburn has been a part of the music industry for several years. It seems as though when you mention this family, people recognize that … Read more...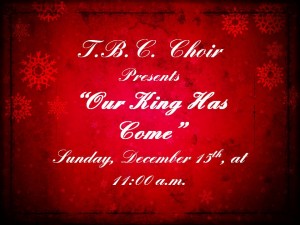 Because of the icy weather on December 8th, the Temple Baptist Church Choir's presentation of "Our King Has Come" will be presented this Sunday, December 15th, 2013, at 11:00 a.m.
All are invited to celebrate the birth of Christ with us through this beautiful and powerful program.
Please make plans now to attend and bring your friends and family!… Read more...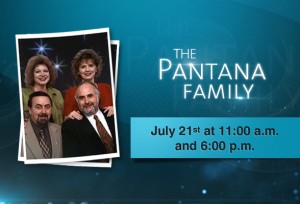 One of Virginia's best known gospel music families will be at Temple Baptist Church on July 21st.  The Pantana family will be in concert at Temple on Sunday evening, July 21st, at 6:00 p.m.  In addition, the Pantanas will be providing all of the music during our 11:00 worship service that same morning.  Come enjoy the uplifting and inspirational music … Read more...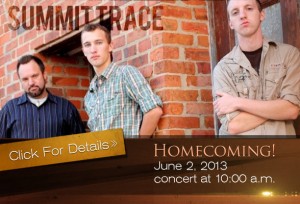 Sunday, June 2nd, 2013 will be Homecoming at Temple Baptist Church!  This will be a wonderful day of celebrating forty-two years of God's blessings, and seeking His face for our future as He tarries His coming.
Our special musical guests this year will be Summit Trace from Boonville, North Carolina.
In the heart of each member of SUMMIT … Read more...
This year, Easter comes a little early.  It is on March 31, 2013.  The schedule will remain the same as it has for the past few years with the Easter musical being presented at 9:30 a.m.
We are so excited to present this program.  It is entitled, The Story, and it is as simple and thorough a presentation of … Read more...
Everyone is invited to attend the annual Christmas program of Temple Baptist Church.  This year's musical is entitled, "And On Earth, Peace."  It is a program that is filled with beautiful Christmas music, visuals and a powerful message!  The program will be presented two different times: Following our Christmas Banquet on December 7th.  It will start at approximately 7:30 p.m.  … Read more...
On June 3, 2012, Temple Baptist Church will be celebrating its 41st Homecoming.  This year, we are welcoming the Bledsoes from Dobson, North Carolina.
Spanning more than 30 years of heartfelt, sincere ministry, The Bledsoes have consistently tried to present the Gospel of Jesus Christ in a professional, passionate way. Their main goal is to see the Lord 'high and … Read more...
Easter is on Sunday, April 8th, this year, and we are preparing a very special program for that day!  The Temple Baptist Church Choir will combine with the King's Players, from Liberty University, to present a powerful Easter Pageant entitled, Days of Glory!
Days of Glory is a program that uses music and drama to tell the … Read more...
This year, we will continue a treasured tradition here at Temple Baptist Church with our annual Christmas program.  The title of the program is Hope Is Born Emmanuel.  The musical is filled with beautiful and worshipful music that will bless your heart!
Have you ever felt hopeless?  Do you know the paralysis of despair?  Have you ever been so … Read more...
What a wonderful time to be at Temple Baptist Church!  Each week we are privileged to celebrate God's abundant blessings on us as a church, and as individuals!  Summer is winding down, and the music ministry is gearing up for an exciting new year!  There are several exciting events coming up that you will want to make sure you are … Read more...