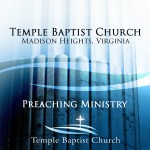 God's Word is truth.  And although the Bible is not a science book, when it speaks of matters of science it is completly accurate.  The account of the world-wide flood in Genesis 6-9 is no exception.  Duane Seagle, the science teacher at Temple Christian School, speaks on this important issue.
October 31, 2010
Audio clip: Adobe Flash Player (version 9 … Read more...
**Warning!  Content is Explicit!"
I've recently purchased a book entitled "30 Ways in 30 Days to Save Your Family, by Rebecca Hagelin.  Mrs. Hagelin says, "In today's society, the enemy among us is not wearing a trench coat and driving a suspicious looking van.  No, the true enemy out to destroy the innocence of our children comes into our … Read more...
By: Stephanie Sweat, Principal
This past February I was privileged to take the senior class from Temple Christian School to England, France, and Italy for their senior trip.  Tough job, but somebody's got to do it!!!  While we were in Italy we visited the Leaning Tower of Pisa.  The construction of the tower began in 1173. The foundation was laid … Read more...