"Behold, a virgin shall be with child, and shall bring forth a Son, and they shall call His name Emmanuel, which being interpreted is, God with us."
Without any question, if you were to ask me what my favorite holiday was as a child, I would say Christmas.  I loved everything about the Christmas season.  What wonderful memories I cherish … Read more...
All of us are prone to be thankful at the moment of blessing.  It really doesn't take faith, however, to give thanks at a moment when we can see what God has just done.  But it really does require faith to be thankful when the outcome of a situation has not yet been revealed.  It takes faith to thank God … Read more...
America was a great nation because it was founded on Godly principles.  John Adams once stated, "The general principles of which the fathers achieved independence were the general principles of Christianity.  I will avow that I then believed and now believe that those general principles of Christianity are as eternal and immutable as the existence and attributes of God." 
I … Read more...
It has been little over a decade since the 21st century arrived, and as the calendar moves on in 2011, many ask if ruin is on the horizon.  We now live in a very secular and religiously antagonistic 21st century.  It is quite clear that the three institutions God placed on earth, the home, governments, and the church, … Read more...
"This know also, that in the last days perilous times shall come." (2 Timothy 3:1)
Again and again over the past two millennia, our world has experienced stretches of relative peace and prosperity, interrupted at intervals by terrible times of agony and catastrophe.  And Paul wants us to know that these times of stress will be accompanied by false teachers, … Read more...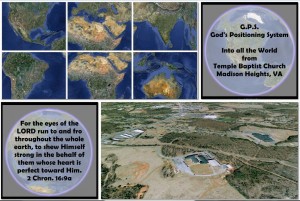 The theme for this year's Missions Month is G.P.S. (God's Positioning System).  We are focusing in on our worldwide missions program.  We are astounded at how God has positioned our missionaries throughout the globe in such a strategic way.  We are grateful and humbled that the sun never sets on the missions outreach of Temple Baptist Church.
As we bring … Read more...
Every election is important, but this year it is critical that the people of God avail themselves of this great opportunity to have a voice in determining the men and women to lead our state and nation. 
As you prepare to vote, seek wisdom from above.  Take time to study the issues and determine before God to seek His will.… Read more...
Lord, as I sit down to a Thanksgiving table once again, I want to thank you for your goodness to me.
Thank you for meeting my needs every day – for food and shelter and clothing.  And for the many extras you provide that I so often take for granted.
Thank you for family and friends who make my life … Read more...
The New Testament Scriptures give us a pattern for supporting the practical work of carrying forth the gospel.  Paul acknowledges that as Christians we are to give ourselves to the Lord – all that we are and all that we have.  Then we give of our means as the Lord provided us (2 Corinthians 8:3-5; 9:9-11).  Paul taught his churches … Read more...